Traditional Chinese Medicine (TCM) has a documented practical history in China for the last 5,000 years. At Dr. Winnick & Associates, P.C. we have perfected how to co-treat acupuncture with different medical therapies to further enhance the quality of care and results for our patients. For almost a decade, Clayton Shiu and Chinese Healing Group Inc. has applied acupuncture to thousands of patients to treat all types of orthopedic issues from neurological to soft tissue disorders. Once patients are introduced to the positive, analgesic effects of acupuncture, they often explore its other internal benefits as well. For instance, many patients enjoy stress relieving and immune boosting acupuncture sessions at Dr. Winnick & Associates, P.C., along with our unique sports performance treatments.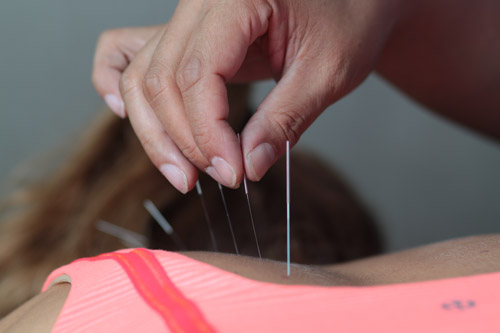 Our professional relationships with the most established and leading New York medical community allow us to effectively apply acupuncture to pre- and post-surgical candidates such as knee replacements, PFD, hip replacements, partially torn labrums, post-surgical edema, and non-circulating and healing tissues including bone, ligament, nerve, and tendons. We also offer 'Acupuncture Facelifts' to treat and rejuvenate the facial nerves while replenishing and balancing the hormones. This scientific approach to the acupuncture facelift has proven to be the fountain of youth for many patients.
TCM is the longest updated and improved independent medical system in existence. Acupuncture, herbal medicine, and tui na massage are the main components of TCM. Acupuncture involves the insertion of hair-thin needles into multiple parts of the body to elicit a physiological effect. Because of the today's modern technology, these hair-thin needles are solid, smooth and virtually painless during insertion unlike a hypodermic needle which is thick, hollow, and jagged.
How does acupuncture work?
Acupuncture regulates circulation in various miraculous ways. After determining the mechanism of the improper circulation in an area, the acupuncturist skillfully and precisely inserts hair-thin needles to increase blood flow to an area of injury.


Acupuncture has been shown to do this by vasodilating blood vessels, even in the most stubborn and ischemic areas. It can also lower the body's hyper-response to injury and direct flow to an area such as a swollen sprained ankle. Acupuncture also works by increasing a nerve's strength and conduction to muscle, as well as releasing soft tissue pressure off an entrapped nerve.


During acupuncture sessions, patients often feel a marked effect as quickly as 20 minutes after needle insertion and many times even sooner. This is partly due to our integrative approach of applying Western and Eastern sciences to properly find the correct acupuncture point that helps open the pathways inhibiting proper nerve conduction. Through vast research and experience, we understand how long and how much to use acupuncture in our cutting-edge sports and rehabilitative facility. We clearly distinguish the damaged tissue and pathomechanism as a team and then arbitrate the best, most effective and efficient treatment plan to help the patient.


We understand the difference between acute and chronic injuries and thus vary the frequency and duration of the acupuncture sessions in correlation with Dr. Winnick & Associates, P.C. Our patients find our egoless, highly researched, and Hippocratic approach so unique that they confess they have never met a team of unique and caring therapists such as those with Chinese Healing Group and Dr. Winnick & Associates, P.C.