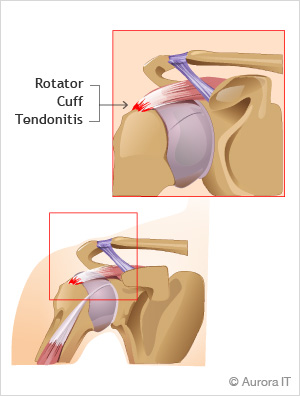 Rotator cuff tendonitis
is a common condition caused by repetitive overhead activities over a prolonged period of time.
Overuse of certain tendons and muscles can alter and compromise the texture or quality of the joint, resulting in inflammation and shoulder pain. Ultimately, the tendon tissue can tear as it weakens.
Symptoms include pain in the front or outside of the shoulder, shoulder weakness, and stiff shoulder. When the shoulder becomes inflamed, even sleeping can be difficult. Since it is primarily and
injury of repetition
, sports such as squash, tennis, baseball, weight training, swimming, and golf can all lead to shoulder tendonitis.