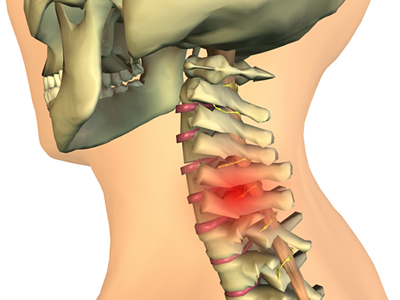 A
cervical disc herniation
occurs when a tear in the outer, fibrous ring (annulus fibrosus) of an intervertebral disc allows the soft, central portion (nucleus pulposus) to bulge out beyond the damaged outer rings, like jelly pressing out of a donut.
A herniated disc in the neck can cause intense neck pain, shoulder blade pain, shoulder numbness that extends as numbness in the arm or forearm, and a weakened grip. A cervical herniated disc can be due to trauma to the neck or shoulder, or can slowly evolve over time as the result of poor posture or increased pressure on the cervical spine.
Some of the terms commonly used to describe this neck pain condition include herniated disc, prolapsed disc, ruptured disc, bulging disc, and slipped disc.