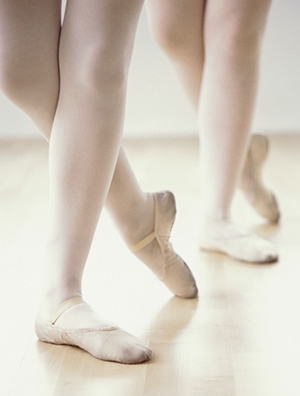 The ease and grace of a ballerina's movements require extensive training and demands on the entire body. Injuries to the lower back and lower extremities are common. Most ballet movements involve full external rotation of the hip. The vital sciatic nerve glides under the external rotators of the hips and can become adhered to them.
In addition to causing sciatica, chronic lateral hip tightness places asymmetrical stress on the labrum (the cartilaginous rim around the edge of the socket). Over time, the labrum may suffer tears that can require surgery.
Ballet also puts demands on the rotation of the knees and ankles. Compromised rotation at the hip can cause strain in the knee and ankle as they work to compensate.
The most obvious stress on a ballerina's body is to the foot from standing on point. This places a shearing force on the subtalar joint (the joint between the heel and the talus). Rather than the force being translated through the joint from one bone to another, the stress is borne by the connective tissue holding them together. This can painfully irritate the connective tissue and compromise the integrity and stability of the joint.