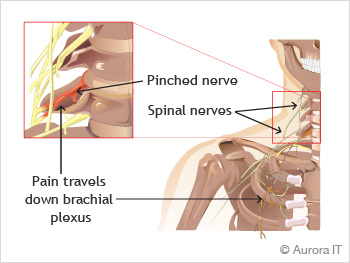 A
pinched nerve
is described as a damage or injury to a nerve. Pinched nerves can result from overstretching or compression to a specific nerve region.
Symptoms of a pinched nerve include numbness, "pins and needles," burning pain, or radiating pain that extends outward from the injured area. Most people have temporarily experienced a pinched nerve with the sensation of a hand or foot falling asleep.
A pinched nerve in the neck may come from either a disc herniation or bone spurs from spinal arthritis. Pinched cervical nerves can cause of
Carpal Tunnel Syndrome (CTS)
and even tennis elbow.