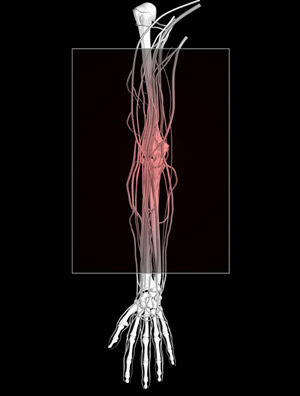 Tennis Elbow
or lateral epicondylitis is a condition involving the muscles and tendons that attach to the outer part of the forearm and humerus.
Tennis Elbow
occurs as a functioning failure where the muscles insert into the bone or where the muscles meet the tendons. Tennis Elbow is a very common overuse injury or muscle imbalance, even in those who do not play tennis. Often patients don't recall when the injury began or specifically where the pain started. Beginning as tightness in the elbow and arm, Tennis Elbow, worsens over time as scar tissue forms in the area.
Since scar tissue is actually not as strong as the normal tissue it is easily irritated and can become very painful. Daily activities that involve any movement of the wrist or gripping action can cause pain.
Weightlifting, tennis, and golf are common offenders, but even carrying a heavy briefcase or working on a computer can be painful.