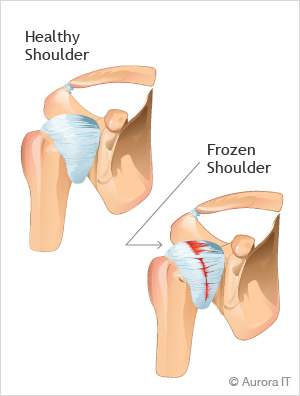 Frozen shoulder
or
adhesive capsulitis
is a very painful condition, though often patients are unaware of how the injury occurred.
Most common in women over age 30, frozen shoulder is characterized by joint inflammation in its earliest stage. Over time the inflammation causes fibrosis, which ultimately limits shoulder movement.
Getting dressed and even sleeping can become very difficult with frozen
shoulder pain and stiffness
. As the shoulder becomes more "frozen" patients notice more and more restrictions in their daily life and without adequate treatment the condition can continue for months or even years.