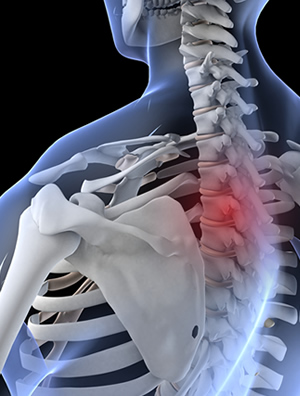 The
mid back area
is referred to as the thoracic spine. Mid back pain can occur from too little movement or as referred pain from a condition of the neck.
Localized back pain often affects those who sit at a computer for long periods of time with a forward head carriage. This unnatural position of leaning forward causes excessive force on the shoulder and mid back, the area between the shoulder blades, and results in muscle imbalances and strain.
Weakness in the mid back and front neck muscles can occur, as well as tightness in the pecs and muscles behind the neck. Occasionally, some of the nerves between the shoulder blades may become compressed and painful.